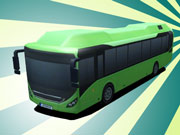 Bus Parking
---
Description :
A special driving license is always required for bus drivers. In the process of parking the bus, it is not simple to park the bus in a narrow parking space without any collision. Bus Parking is a game related to the training parking level. If you want to be an excellent bus driver, don't miss this game. In the game, you need to park the bus in a designated area according to the instructions. Compare the routes of the previous levels simple, but getting harder and harder later, are you ready?
Keywords :
Parking, Kids, HTML5, Driving, Car, Boy, Android, 3D, Simulation
Control :
Use arrow keys to control the bus move and click to brake.
Author :
cargames.com
---
Comments
Please login or register to post a comment