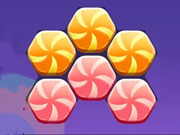 Block Cover Match
---
Description :
Block Cover Match is a fun jigsaw puzzle game, you need to put all the candy blocks into the designated position. These candies are irregular graphics. Your task is to make these candies inlaid in the designated area and fit its border perfectly. This game can train your brain and help you relax. If you are a fan of puzzle games, don't miss this game! If you like this game, don't forget to share it with your friends!
Keywords :
Puzzle, Maze, Matching, Kids, Jigsaw, HTML5, Food, Cartoon, Cake, Brain, Boy, Block,
Control :
Slide on the screen to play.
Author :
topmathgames.com
---
Comments
Please login or register to post a comment