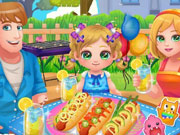 Baby Cathy Ep15: Making Hotdog
---
Description :
Baby Cathy Ep15: Making Hotdog fun cooking game. Hello, guys here is our cute little Cathy with another episode. Now she wants to cook hotdogs lemonade for her parents. As she learned to cook now she gonna try hotdogs. Let us help her to cook and have fun with their parents. First, let her clean her garden area to set up the grill. Next make her look cute with the latest dresses and make her select the vegetables before that help her to cook the sauces and fry vegetables and cheese, corn, pepper, and more. Finally, let us have the yummy hotdog with family, and let's have fun.
Keywords :
Kids, HTML5, Girl, Fruit, Food, Dress Up, Decorate, Cooking, Cleaning, Cake, Burger, Baby, Android
Control :
Click and tap to play.
Author :
y8.com
---
Comments
Please login or register to post a comment