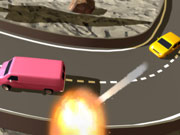 Auto Drive
---
Description :
Have you ever driven a combat car? The battle car is equipped with cannons and heavy machine guns. You can experience the fun of driving and shooting in the Auto Drive game. Auto Drive is a racing game in which the cars can shoot each other. Win races and earn money to buy performance upgrades and to attach different weapons. Play online against others or compete in the offline championship and casual races. It is worth mentioning that, Not all cars and drivers can reach the end, and the one who lives to the end will win the championship.
Keywords :
Truck, Timing, Submachine Gun, Shooting, Racing, Obstacle, Kids, Gun, Driving, Car, Boy, Shopping
Control :
Use arrow keys to control the car move and space to brake.
Author :
crazygames.com
---
Comments
Please login or register to post a comment