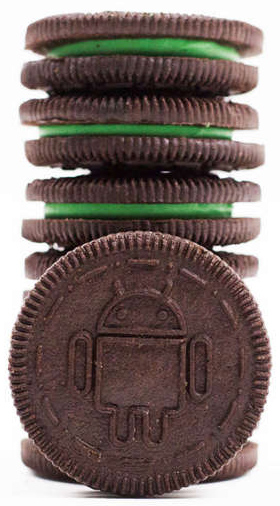 When Android 8.0 Oreo first arrived publicly I sent out an email to my dev and product experts asking their take on Android's latest version. I completely forgot about Ron Amadeo from ArsTechnica. His latest post gives an exhaustive description of Android Oreo from a user's and developer's point of view. He's just that good! What I was looking for and glad I found was his comments on Google's mission to prolong the Mobile OS'es battery life. Well, that's my deduction. Apps that used to have a safe free range to things like location now has a gate on it. 
I didn't know that until one long time email friend answered my on the record request:
Quote:

Hello,




just looked at it again. One of the bugs is just terrible documentation - I found a working sample, and put it through its paces and diffed it to find the delta.



Nevertheless, I am extremely critical. Look at this, my friend ->

https://developer.android.com/about/versions/oreo/background-location-limits.html

. Can you hear the sound of Google ****** a million developers who trusted Geofencing at the same time?



If it wouldnt be so hard to test, id actually like to do a test here.





Tam - https://www.instagram.com/tam.hanna
Haha, I told them it was on the record. They said more but I'm saving that. I've been an advocate of Android for years and hearing anything disparaging is jarring. I don't expect them to be perfect but being open means being honest, right? Well we'll table that question for a second and get back to Ron's discovery mirroring the same thing my contact found:
Quote:

Limiting scans for location and Wi-Fi


Before Android 8.0, apps had unlimited background location usage. Google frequently cited background apps "polling once every second" in previous versions, which will chew through battery like crazy. Sometimes this was accidental, where apps would request precise location and in the foreground and forget to stop in the background. Other times, this was a developer being far too aggressive with background location requests.

In Android 8.0, Google is putting limits on background requests. For most cases while in the background, apps will be granted location updates about every 30 minutes. Apps are still free to request as often as they'd like, but the system will just continue providing old data and will only fire up the GPS and update the location at most every half hour.

...

Geofencing—

A centralized location service in Google Play Services that lets developers declare a "geofence"—basically draw a shape on a map—and be alerted if the user enters or exits this area. This API is preferred for most background location usage, as 

the documentation

 states "apps can receive geofencing transition events more frequently than updates from the Fused Location Provider" with an "average responsiveness for a geofencing event" of "every couple of minutes or so."
Cool, same thing right? Does this apply to Google Branded apps like Google Maps and others?
Quote:

With all the background processing limits in Oreo, many people have wondered if this applies just to third-party apps, or if Google will actually be limiting its own apps. For location updates, Google spells it out right in

 

the documentation 

: "This behavior change affects all apps that receive location updates, including Google Play services."
Oh okay, that sounds fair then. My contact was a little over the top when replying but they were trying to fit themselves in the developer's shoes. Years of hard work only to have Google change the game. I get it but progression is a digression sometimes. We have yet to see if the new GeoFencing way will affect the already established related apps and games.
The article does a very deep dive into API's and calls so I recommend reading it all if you didn't already test it to the fullest when it was first available for developers. What feature are you looking forward to using in your app and game? Read more below.
https://arstechnica.com/gadgets/2017/09/...-reviewed/